Desktop wallets are programs that store and manage the private key for your Bitcoins on your computers hard drive. In this post, I will review the most popular desktop wallets around for Mac, Linux, and Windows.
Theres a wide variety of Bitcoin desktop wallets around, each one has a different edge. For beginners the best wallet would probably be Exodus. The wallet with most security options would be Armory, while Bitcoin Cores wallet verifies each transaction with a full copy of the blockchain. The winner in all categories overall is Electrum.
Thats Bitcoin desktop wallets in a nutshell. If you want a more detailed review of the different desktop wallets keep on reading, heres what Ill cover:
By design, desktop wallets are more secure thanmobile wallets(since theyre harder to steal) and less secure thanhardware wallets.
If youre new to the world ofBitcoin and wallets, I strongly advise that you watch this video so this post will make more sense:
Desktop wallets are considered hot wallets, since they are connected to the Internet. This makes them inherently insecure. However, for small amounts of Bitcoin oraltcoins, they are a good solution.
Forlarge amounts of BitcoinALWAYS use cold storage wallets (i.e. wallets that arent connected to the Internet) like apaper walletor hardware wallet.
It took me a while to start usingElectrum, but once I did, I never looked back.
Ill start with the downside Electrum is ugly. The interface looks like a 90s version of Windows. Also, if youre completely new to Bitcoin, I have the feeling youll get lost pretty quickly due to the unfriendly interface.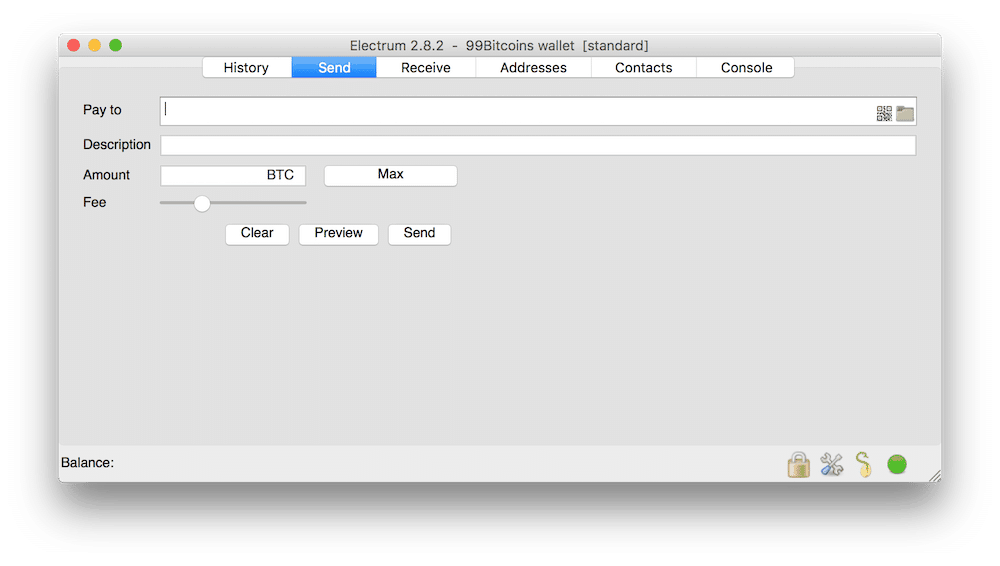 However, once you get over the interface issues, Electrum is one of the most robust, effective and secure desktop wallets out there.
Also, its open source, meaning many people have taken part in reviewing and composing the code. This reduces the chance of malicious code inside the software to practically zero.
In times when the Bitcoin network is crowded andtransaction feescan skyrocket, Electrum is one of the few wallets that allows you to replace the fee youve set to an already broadcasted transaction. This feature is very handy when you cant get your transaction to confirm.
Additional features include address tagging, fee adjustments, encrypting your wallet and signing/verifying messages (this is an advanced feature).
Bottom line, this is an excellent desktop wallet. If you understand Bitcoin good enough to use it, go for it.
If youre just getting started with Bitcoin and youre still trying to wrap your head around everything thats going on, Exodus has got you covered.Exoduslaunched in July 2016 and since then has gained some serious momentum.
Again, Ill start with the downside its not open source. This means that the developers can potentially insert malicious code into the software without you knowing about it. And of course, when it comes to money, having a closed source program can raise some concerns.
However, since in any case, I suggest you use desktop wallets for small amounts of Bitcoin (closed or open source), then this is not a big issue in my book. I never put an amount Im not willing to risk in any hot wallet (desktop, mobile or web).
Exodus also allows you to hold a variety of altcoins such asEthereumLitecoin, Dash and more. The interface is super easy to understand and even total newbies will get the hang of it. If you find electrum to be daunting, this is a great alternative. Exodus is available for Mac, Windows, and Linux.
All of the wallets Ive covered so far are known as SPV wallets or lite wallets. This means that they dont have a full copy of theblockchainin order to verify transactions they rely on other computers on the network to give them transaction information.
Bitcoin Coreis afull nodeBitcoin wallet. This means that once you download the wallet, you will also download the whole blockchain to your computer. This can get really messy as theblockchains sizeis a few hundred Gigabytes and can take some time to download.
However, once the Blockchain is downloaded you can start independently verifying transactions on the network. You no longer need to trust anyone else in the system. Or as Bitcoiners like to say dont trust, verify.
In all honesty, I dont think its worth the hassle unless youre super paranoid. You can gain some educational value by completing this process, but for day to day transactions and use, Bitcoin SPV wallets are completely fine.
Platforms:Mac OS, and Windows, Ubuntu, Debian, Fedora.
If youre looking for an easy to use desktop wallet to store not only Bitcoin you can take a look atAtomic Wallet. Atomic Wallet is a multi-currency wallet that allows you to store up to 500 different coins andtokensin a single interface.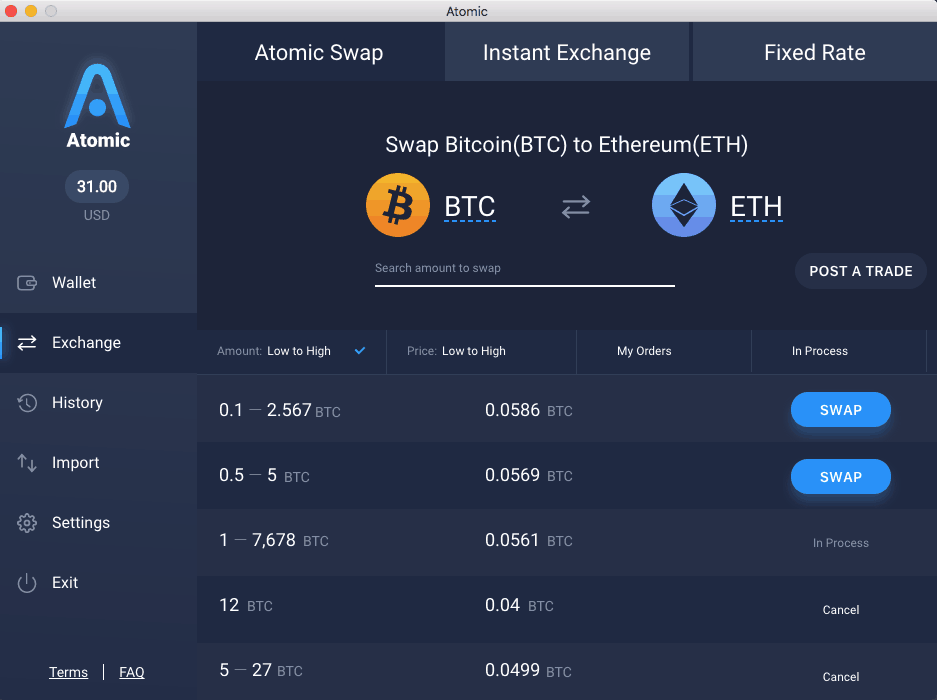 The wallet also allows you to useAtomic Swapsin order to exchange between certain cryptocurrencies directly from within the wallet without the need for an exchange. For coins that dont support Atomic Swaps theres the option to use built in services likeChangellyorShapeShiftto conduct trades.
Copayis a wallet created byBitPay, one of the largest Bitcoin payment service providers around. The wallet is available for most major platforms (mobile and desktop) and is amultisig wallet.
Multisig means that you can have the wallet require an X amount of people to sign off on each transaction in order to broadcast it to the network. Using Copays multisig feature allows you extra security against theft and could be a good option if you cant afford a hardware wallet.
Copays code is open source and has been around since 2014.
Platforms:Mac OS, Linux, and Windows, Ubuntu and RaspberriPi.
Armoryis a well-known and trusted brand when it comes to Bitcoin security, though the wallet is usually best suited for more advanced users.
If you are looking for a wallet that emphasizes safety and security, Armory should make the short list as the wallet features a variety of encryption and cold-storage options.
Armory is among the most respected brands when it comes toBitcoin security.
How do I Transfer Money to My Bitcoin Wallet?
Find your Bitcoin address (long string of letters and characters that starts with 1 or 3)
Wait for 3confirmations(recommended but not necessary)
How do I Transfer Money from My Bitcoin Wallet to My Bank Account?
Banks dont accept Bitcoin, so youll need tosell your Bitcoinsfor fiat currency (Dollar, Euros, etc.) on aBitcoin exchangeand then withdraw those funds from the exchange to your bank account.
Theres no shortage of desktop wallets for Bitcoin and this can sometimes be overwhelming for beginners. If youre new to Bitcoin, start withExodusand work your way up. If you feel that youre pretty technical you can skip exodus and go straight toElectrum.
In the end, try to suit the wallet to your needs, since each one of the wallets Ive reviewed here has a different edge.
Id love to hear about your favorite Bitcoin desktop wallet in the comment section below.
Dummy-proof explainer videos enjoyed by over 100,000 students. One email a day for 7 days, short and educational, guaranteed.
We hate spam as much as you do. You can unsubscribe with one click.
TRY Evercoin! The best multi-cryptocurrency wallet so far.
How would I go about trading my Cryptolux CLX coins for crypto like BTC? I tried going to the sites they send me to but when I do the address and put in into my Cryptolux CLX wallet address nothing happens! They do offer Linux and Windows wallet for deposit withdraw but dont know what you do when you download as it looks weird!
YOU said that in order to send bitcoins to someone else you will have to convert the bitcoin wallet to a digital wallet and there is a tutorial for that. Where is the tutorial? As far as personal information on coinbase and what is the difference. m doesnt make clear what identity information they request in their terms of service other than name and email. Do yo know what they require?
Exodus charges stupid high fees for their use. It is easy to use just expect 10% or more in fees. Multiple complaints about this and the excuse they give is not true as I did only one deposit in a month. That is why I am at this article. I need a wallet that does not eat up my monthly mining in fees.
Pretty useless article as there are way more crypto coins out there than just the few supported in the above mentioned app.
If you are going to write an article like this, which is generally appreciated, discussing products that cover a decent range on coins (no not all the 1500 that are out there) would be surely be more meaningful.
hello everyone i looking for a wallet to store iota and ripple coins any way this is possible???
What wallet will allow you to store all coins rather than just a chosen few
I downloaded Armory, and created a watch only wallet. Ive bought some BTC but still have 0 balance. Do I need a regular wallet of some sort before i creat a watch only?
Also, the blockchain or database is downloading and is only at 85GB at the moment, do i need to wait for the whole database to be downloaded?
The notes about the Bitcoin Core wallet are not totally true. You will need to verify the full 130gb (when you start) but you dont have to store 130gb on your computer as described here:
We HateSpam, Unsubscribe at any Moment with one click