enjoy TRANSPARENT pricing, TIGHTER spreads & NO last look
Daily market commentary: The dollar is strengthening
Fintech company Integrals ADV drop 2% MoM in October
CLS hires Deborah Hrvatin as Chief Risk Officer
Traditional equity advisor: Bitcoin: The Calm Before Its Next Wave Higher
Crypto key security processes leap forward via Keyless and Vault12 plans
Trade talks rekindle reserves de-Dollarisation debate Will Bitcoin benefit?
Lawyer for OneCoin Ponzi Scheme on trial for $400 million scam
Daily Market News: Global economy reaches new milestone
CFH Clearing adds multi-asset liquidity analytics tools to its offering
German bank association supports digital Euro, but denigrates cryptos
Bud launches API portal for SMEs and fintechs
Daily market commentary: The euro is on the backfoot
Breaking news: IS Prime reports 60% increase in turnover in 2019
Industry Veteran Conor Ringland joins RegTech firm muinmos as Chief Commercial Officer
Finlogix with official global launch in Sydney
While Congress considers 24 anti-crypto bills, one lawmaker offers support
HomeForexMarket NewsIraqs Current Economic Outlook And How it Can Affect Dinar ValueIraqs Current Economic Outlook And How it Can Affect Dinar ValueMarket NewsMarch 29, 2017byadmin
Screenshot of a breaking news alert e-mail from Q2 2017
Please check your email to confirm your subscription
We hate SPAM and promise to keep your email address safexAfter years of economic neglect, poverty for the common man and turmoil in the region, Iraq has finally reached a state of constant economic growth under democratic leadership in the aftermath of the US invasion in 2003 and the deposing of Saddam Husseins tyrannical regime.
The following post is courtesy offractalerts, a division of fractal SA, Switzerland, a trading alert service based on unique algorithms that intuitively predict patterns in the market. Each market forecast is systematic, unemotional and data-driven resulting in specific entry and exit points and historically astounding gains across 34 different markets.Iraqs Economy is Rising
The main driving force behind Iraqs economic growth is the wealth of natural resources reflected in a large number of oil and gas fields which are now open to international trade. Companies from around the world are investing into the development of these resources, which is reflected in the countrys ever-increasing oil exports. It seems that Iraq has completely recovered from the damage and downfall it suffered under the rule of Saddam Hussein.
An even greater exploration of Iraqs oil reserves by international companies will lead to an even bigger tally of the countrys oil wealth, along with its already-known, vast reserves. In addition to all that wealth, Iraq seems to be blessed with geological formations that are perfectly accessible for drilling as opposed to most countries, which significantly brings down the costs of oil extraction.
The most obvious example of Iraqs production advantages can be seen in the most recent Saudi Arabian oil production war which was designed to bankrupt the US shale-oil producers. And while oil producers in the US have been severely impacted by the overproduction attack from Saudi Arabia, Iraq still continues to produce and sell oil profitably.What does this mean for the Iraqi Dinar?
The value of a nations economy, as well as its currency, is directly reflected in its natural resources, and Iraqs oil reserves are big enough to drive its young democratic economy to prosperity. Given the fact that there is an insatiable need for gas and oil across the world, Iraq is can look forward to constant growth in its ever-growing role of the oil supplier to the world. Although Iraq is not there yet, it is becoming increasingly obvious that the country will take on the role of a regional and international energy super-power given its natural reserves in the near future. In fact, just recently the countrys Minister of Oil stated that Iraq will be able to produce 5 million barrels of oil a day in the second half of 2017.
Additionally, current political events play a key role in predicting the future of any given currency, and the controversial Muslim ban instituted by Donald Trump could have had major consequences for the Iraqi economy, had it not been lifted on March 6th this year. This new order to exempt Iraq from the list of banned countries has proven to be very beneficial for the countrys currency with foreign currency investors being able to exchange Iraqi dinar at favorable rates, keeping the country a valuable asset in the foreign exchange market.
All in all, it seems that the Iraqi dinar is looking at a bright future.
In the end, it is important to note that Iraq presents a wealth of investment opportunities in many industries, with the economic rise being driven by oil and gas reserves. These opportunities will become even more apparent in the following years, as the newly-established government continues to offer new possibilities to international investors.
PFSOFT adds intraday margin trading for delivery based securities on Protrader platform
IKON Finance exits Retail Forex amid FCA restrictions, transfers clients to Hantec Markets
Daily market commentary: The dollar is strengthening
Daily Market News: Global economy reaches new milestone
Daily market commentary: The euro is on the backfoot
LeapRate is an independent research and advisory firm, specialized in covering the world of Forex trading. We are followed by hundreds of thousands of traders, investors and other FX industry participants via our website, Facebook, Twitter, LinkedIn, RSS and Email Newsletter.
Forex Industry Week Review: Spain CFD rules, XTBs new CEO, IG and Alpha results, and lots mor
Another wild week in Forex Industry News with more regulator action, more executive moves, more financial results from leading brokers and liquidity p
Iraqs Current Economic Outlook And How it Can Affect Dinar Value
Join now to receive first access to our EXCLUSIVE reports and updates.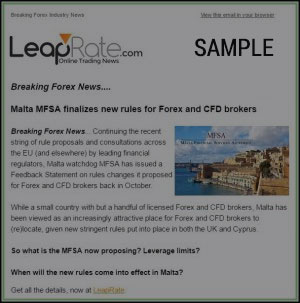 Screenshot of a breaking news alert e-mail from Q2 2017
Please check your email to confirm your subscription
We hate SPAM and promise to keep your email address safe
Forex Industry Week Review: Binary Options brokers leave Cyprus, IKON transfer t
It was another very busy and exciting week of Forex Industry News, with all the key stories appearing first or exclusively at LeapRate. Forex and Bina