Thats the question that many small businesses are asking. But is there a clear cut answer? Can a business truly rely on an internet payroll software tool to effectively perform the mission-critical task of managing their company payroll?
A growing number of payroll practitioners are sayingYes, you can!.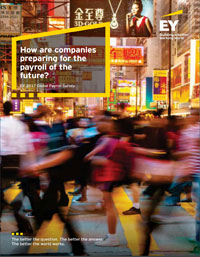 The recent Global Payroll Survey by Ernst and Youngshows that businesses are continuing to choose an in-house payroll approach by more than 2-to-1 over the traditional outsourcing method. Businesses are choosing the higher level of efficiency and control that comes with managing their own payroll.
And todays technology is making the in-house decision easier as new online payroll systems are made available for businesses in Canada and across North America. But with a number of options on the market, which one do you choose?
Introducing eNETEmployer- Powerful, customizable and secure online payroll software for small business.
For more than 30 years,CanPay Payroll Softwarehas been providing Canadian companies with effective, proven software solutions. To continue in this tradition, we are proud to offereNETEmployer, our newest cloud-based payroll solution that is being selected by businesses across the country as their cloud-based payroll tool of choice.
Click Hereto learn more about the program, or choose the button below for a free 30-day trial.
The trial begins on theCalculationspage where you can process a test payroll immediately. Then you can use the familiar spreadsheet-like interface to move around the program and review your payroll details (earnings, deductions, etc.).
And remember to visit ourYouTube Channelto learn everything from the basics like adding employees to your payroll, to advanced topics like working with your payroll year-end and more.

And when youre ready to begin with a live payroll for your company, just provide us with a few details and we will set you up with your own account.
When you sign on with our service, you enjoy the following at no extra cost:
– We can waive the setup fee if you provide us with a usable import file (if your payroll has many employees).
– We offer pay-as-you-go service and you may cancel any time.
– On-call experts can handle your payroll questions.
– Import and export data from your accounting, time-tracking, or human resources software.
– Add as many new staff as needed, anytime, without limit.
Click Hereor choose the button below to view a complete list of program features.
Click Hereor choose the button below to give the program aFree 30-day Trial. If you have any questions, or would like to schedule a live demo with a CanPay representative, please send an e-mail request to:.
CanPay provides Payroll and Human Resource software and online solutions for thousands of companies across Canada. If your business has a unique payroll or HR need or you are simply looking for an alternative to your current method, contact us today. We can offer you a customized solution that will suit your unique business requirements. Please call1-or send a request e-mail to:.