Payroll can be a challenge for small business owners who love challenges but are busy running their company.Payroll services and software help businesses understand the payroll process, giving them access to important forms, managing information,  taking care of deductions.
That said, its not always easy to find the right one.We reviewed eight of the top payroll services for small businesses so you can decide which is right for you.
From online software to HR outsourcing companies and professional employer organizations (PEOs), each has their own strengths, but we found that newer online payroll software companies work best overall for small businesses, so youll find them higher up our list.
Top payroll services for small businesses in 2020
Affordable, with a strong range of features that can help with other areas of HR. Easy to use, with great support.
Good for small businesses due to its scalability, affordability, and user-friendly interface.
Slightly more expensive but with great tools and integration with Intuit Quickbooks, Intuit offers excellent software and extended payroll service.
Another budget-friendly option that does the job. Good features, but not as extensive as some other payroll services.
A great range of familiar features, but at a higher price. Good if you already knew Paychex software.
Market leading payroll service at a price. Worth it if youre already using ADPs other services or want an established name.
For small businesses looking for HR and benefits along with payroll. Cheaper standalone payroll services are available, however.
A valuable set of HR solutions, including access to group benefits as well as payroll, but more expensive.
We ranked our payroll services on the following four criteria:
The better the range and quality of the features offered by payroll services, the better the grade they received.
Small businesses want the right payroll service at the right price. Payroll services combining the best prices with an effective payroll service scored higher..
Convenience is a big part of why small businesses use payroll services. The best payroll services are easy to use and get help with, online or offline.
The better the experience, less painful running a small business becomes. Our highest rated payroll services offered great user experiences.

Gustois a great option for small businesses who need simple and effective online software to help manage their payroll. The features are divided into different packages that suit different needs, the prices are affordable, customer support is readily available, and the quality of the user experience is very high.
Gusto lets you choose between three packages with different combinations of features.
Each option gives you access to different features. However, all of Gustos plans include the following:
Gusto Complete and Gusto Concierge include extra tools for handling general HR requirements like time tracker tools, access to HR professionals, an e-sign document feature, and access to a library of templates and HR forms.

As of 2019, Gusto is offering a 1-month free trial for each of these plans. Check Gustos websites for the latest prices, packages, and promotions. Here are the prices for Gustos different packages:
Gustos telephone and email office hours are between 8 am and 5 pm PST. However, If you would prefer a dedicated support team, youll need the Gusto Concierge package.
Gustos website has a chat feature connecting you to a sales rep if you want to discuss features, pricing, or have any other questions about Gusto.
The features and prices make Gusto good value for money compared to many other payroll services. Many small businesses will probably find Gusto Core more than enough, although if you have other HR needs one of the higher packages might be a better fit.

Paycoris similar to Gusto, offering good online payroll software and other features at prices that scale with the needs of your small business.
Paycors payroll software offers small businesses the following features:
Human Resources on demand (an HR database plus over-the-phone help)
Wage garnishment support for payments and notice review
e-Child support compliance assistance with automation
Paycors software is also easily customizable, with different widgets you can combine in different ways to help see the data you need at a glance.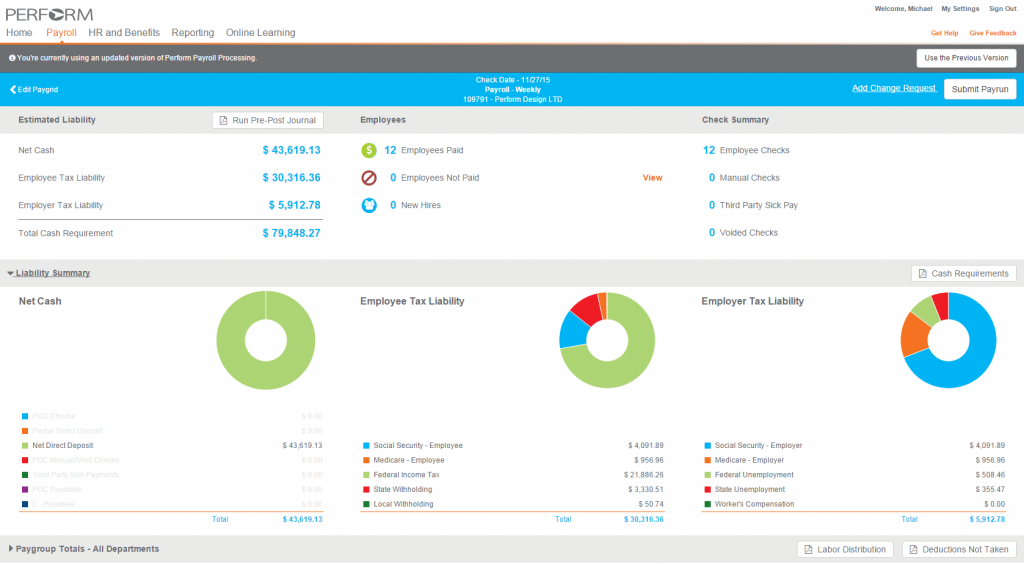 Paycor prefers you to get a custom quote directly, but the following prices are accurate for most small businesses:
This is slightly cheaper than Gusto Core, itself an affordable online payroll service.
Paycor asks that employees of client businesses contact their own in-business payroll or HR administrator. Compared to other payroll services who make themselves available to client employees, thats not ideal.
However, employers can contact them by phone or email, and employees have access to a useful FAQ page for common issues.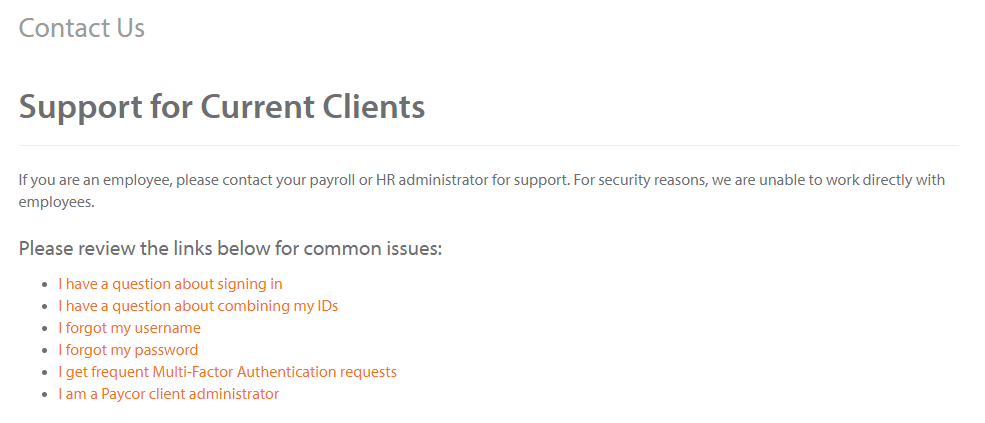 Overall, Paycor is an affordable option that small businesses can use to manage their payroll effectively. While their user support could be improved, its still good enough and the software itself is excellent. Any small business owner interested in Gusto should also take a look at Paycor for comparison.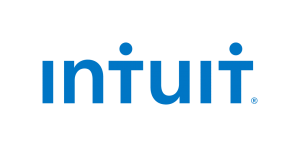 Intuit Payrollis well-known partly because of the popularity of Intuit Quickbooks, their accounting software. Intuit Payroll integrates well with Quickbooks and is popular for its user-friendly interface, solid reputation, and value for money compared to traditional payroll and HR companies.
Intuit Payroll is arguably the definitive online payroll software that many reviewers use as a benchmark when evaluating other payroll services. The features you can expect from Intuit Payroll include:
Seamless optional integration with Quickbooks
Run company payroll from your iPhone, iPad, or Android mobile device or tablet
File and pay your taxes online, including W-2s.
One of the best features is the Intuit Payroll mobile app, which works surprisingly well.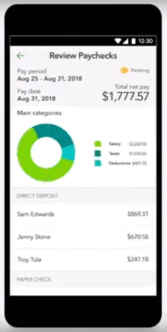 Intuit Payroll is much cheaper than some full-service human resource companies such as ADP but is slightly more expensive when compared to more recent rivals in the online payroll software market.
Small businesses just after a payroll service dont necessarily need Quickbooks. However, if you need an accounting software as well as online payroll software, its worth saving money and improving integration by getting Intuit Payroll with Quickbooks.
The prices for the different Intuit Payroll packages are:
Reviewers looking for customer feedback have found mixed results, some saying Intuit offered helpful customer support while others were less complimentary. However, contact details are easy to locate and we didnt encounter problems ourselves when reviewing Intuit Payroll.
Intuit Payroll is among the best payroll services for small businesses we reviewed. It has the advantage of easy integration with Quickbooks, so those businesses already using this popular accounting software will find the transition much easier.
That said, Intuit Payroll (Full Service or Self Service) performs well on its own, with a range of solidly built features at prices small businesses can afford.

Patriot Software(sometimes just called Patriot) is an easy to use online payroll service that helps small businesses manage their payroll quickly, understand the process, and get accurate results.
Despite being one of the budget-friendly options, Patriot still includes a respectable amount of features. However, while the higher-priced version adds increased functionality for handling payroll tax, you get everything you need to run payroll with their Basic Payroll package. These features are:
Optional add-ons include time and attendance tracking for a base cost of $5 per month, plus $1 per employee and HR software at a base cost of $4 per month, also with $1 for each employee.
The user interface is straightforward and easy to use. Its not quite as customizable as that of Paycor, but its good enough.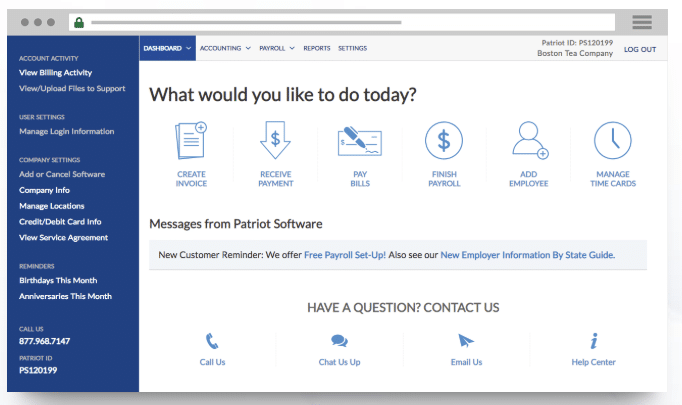 Patriot takes a transparent approach to pricing, with the exact calculations youll need to know your final cost easily available on their website..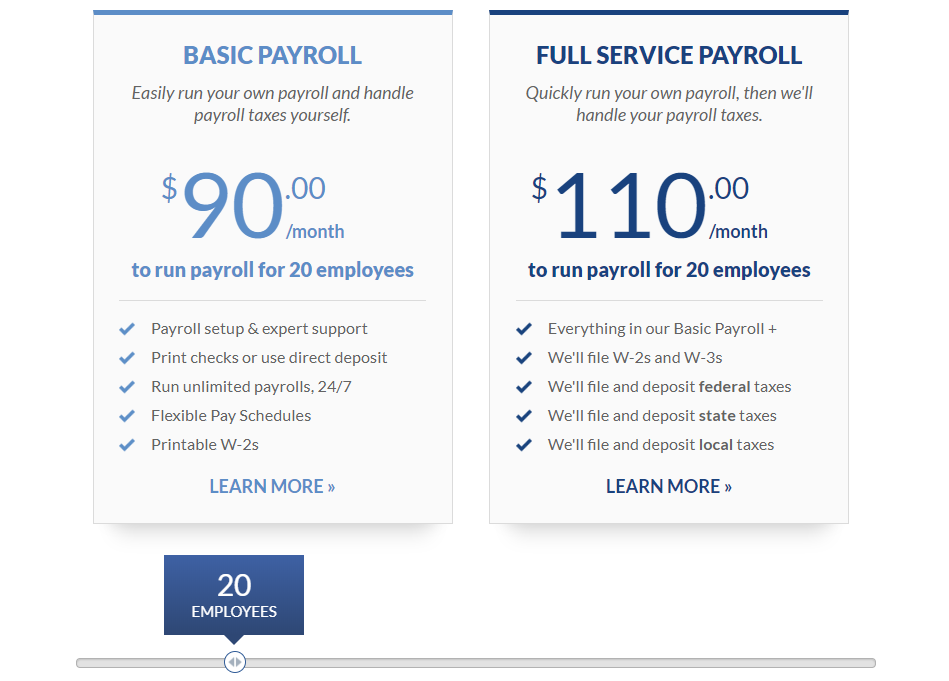 Patriot provides an online drag-and-drop tool you can use to calculate your monthly price based on your employee count for both of their packages.
Compared to other payroll services, Patriot is affordable. This is partly because you are charged monthly, rather than by pay cycle. This means that companies paying their employees every two weeks (or even weekly) instead of monthly dont pay more.
Reach Patriot by email, phone, or online chat is easy. Theres even a help center with video tutorials and articles on common topics of interest.Patriot also helps you set up your payroll when you sign on.
Patriot user-friendly and it gets the job done. If your small business is looking at the budget end of the payroll service market, Patriot might be a good fit.
However, check the available features carefully and compare them to other payroll services for the features you need. If in doubt, call a sales representative for clarification.

With a PEO-style offering and a service catering to larger organizations looking for advanced features,Paychexis one of the most expensive payroll services we reviewed. Small businesses looking for payroll support and HR help should check out their features and prices before signing up.
We look at the features for each of Paychex packages in our 2020 Paychex review. Here we focus on the package they recommend for small businesses, Paychex Flex Select.
Paychex Flex Select has the following features:
Small businesses are likely to find these features more than enough to manage their payroll. Paychex ability to provide access to added benefits like wellness packages is also a bonus.
While their online software works well, its functional in style and doesnt impress visually.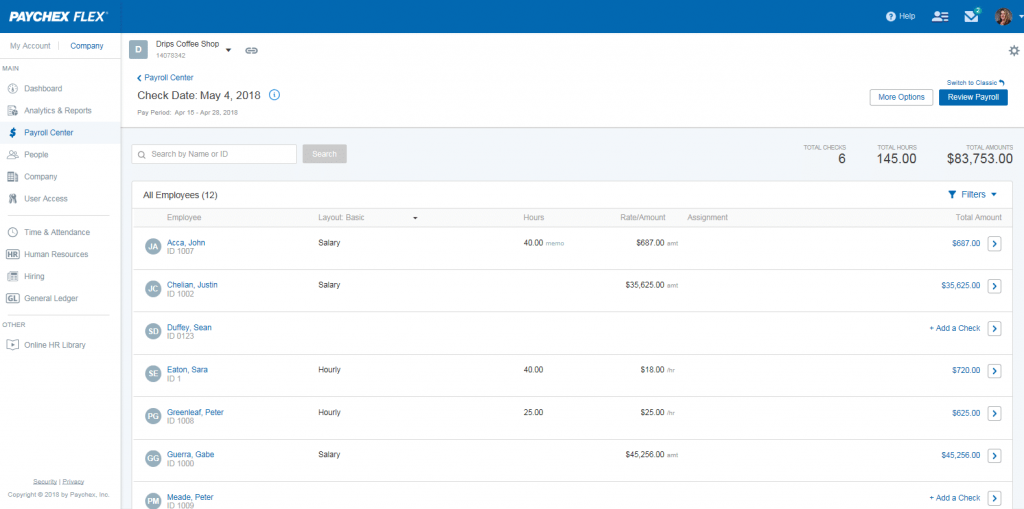 Getting an estimate on the cost of Paychex for your small business means contacting them for a quote directly. As Paychex tailor offerings and prices to specific companies, trying to work out a final price without talking to them means making a lot of assumptions.
However, Paychex is likely to cost more than standalone online payroll software.
Paychex has a reputation for offering quality customer support. You can contact them 24/7 by phone or online chat.
Paychex offers many great features. However,  given the price and the needs of small businesses, its hard to recommend Paychex with more affordable payroll services offering similar features.
However, if youre familiar with Paychex software and have a budget that justifies it, Paychex may make sense for your small business, especially if you want to outsource HR or get access to affordable employee benefits.

ADP Runis a high-end payroll service with a range of features small businesses may find useful. ADP have other products and if youre already familiar with them you might find their payroll service easy to get started with.
ADPs different packages each have different combinations of features, but they all offer the following:
Automatic calculation, deduction, and paying for taxes
24/7 access to support from experienced payroll professionals
Easy online access from a mobile device or desktop
The software user interface reasonably attractive, although like Paychex, it as a corporate feel compared to some of their younger competition, like Gusto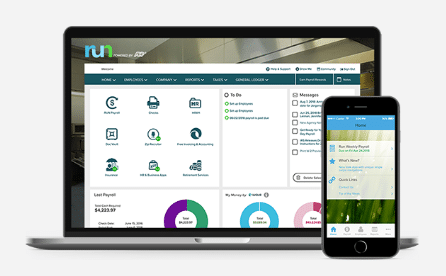 Prices vary by package and even the features of your small business. ADP will consider your business credit rating, risk profile and health benefits history before delivering a custom quote.
However, ADP Essential Payroll is more expensive than Paycor and Gusto, but you will probably get a lower quote than from Paychex, Justworks, and almost certainly TriNet.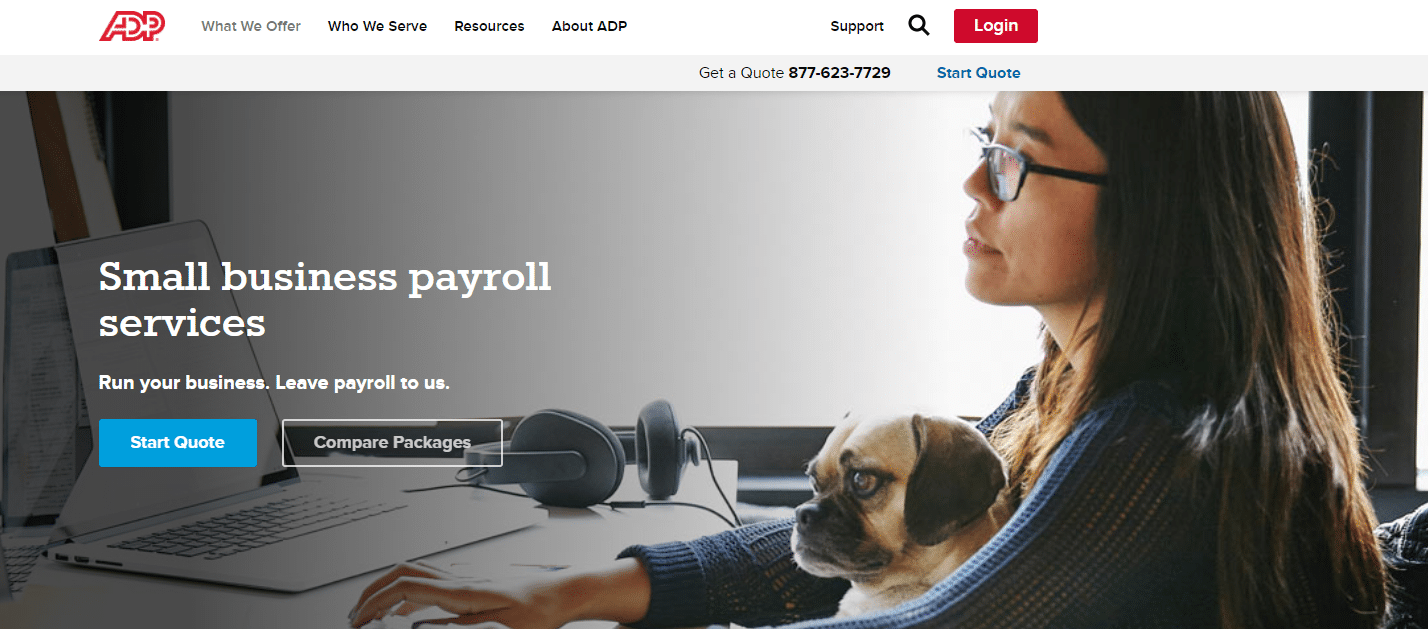 ADP doesnt have a fantastic reputation for customer service and support, but our reviewers encountered no difficulties when evaluating them in this area. Contact details are easy to find, and its easy to get hold of someone.
ADP Run offers great features and is a little more expensive than payroll services like Gusto or Paycor. However, ADP has a solid reputation.
However, we recommend ADPs payroll service to those small businesses already using ADPs other HR offerings, and have budgets that can support it.
Justworksis more than a payroll service, offering your small business full HR support and access to group benefits as a PEO.
Justworks Basic includes the following useful features:
As were interested in payroll services, well stick with Justworks Basic which includes all the payroll features a small business is ever likely to need.
Justworkss pricing structure is very competitive and designed to reflect the size of your small business, even if larger than described in the chart below:
Justworks offers 24/7 customer support with their Basic package, with both online chat and phone available between the hours of 9:30 am and 6:30 pm EST available, which Justworks is working on expanding soon to between 8 am and 8 pm EST.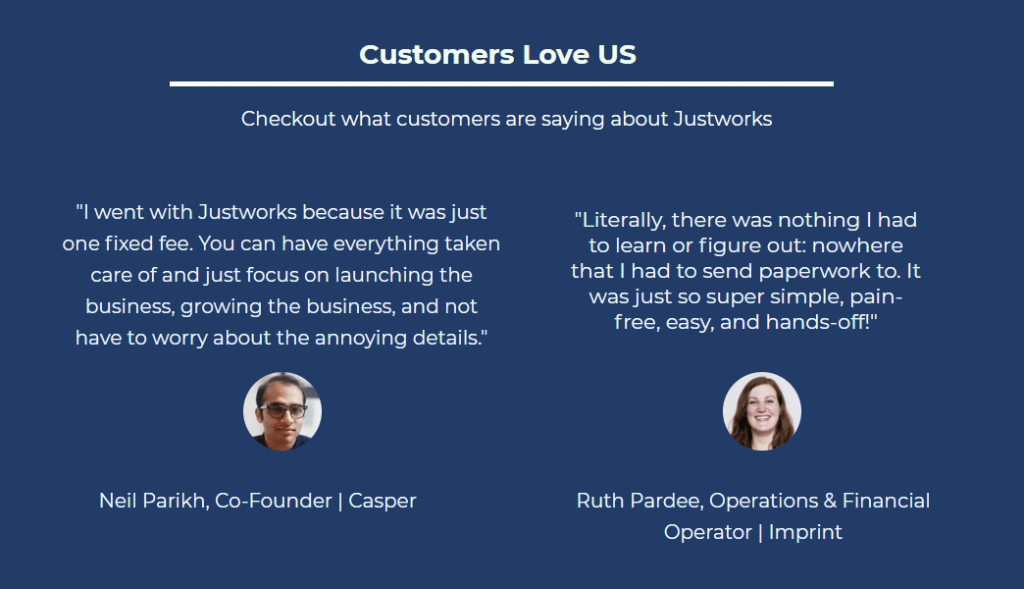 If your small business needs human resources support that goes beyond a payroll service, Justworks could make sense, with excellent additional benefits.
However, if youre just interested in online payroll software, options like Gusto or Paycor may mean better value for money, as extra features come at a premium.
Like Justworks,TriNetis a PEO (professional employer organization) rather than an online payroll software provider. This makes it a little more expensive but brings with it extra features like access to group benefits and other HR support.
TriNet lets you manage payroll entirely online, with access to these core features:
The interface is simple but functional, with key important information easily visible.
As TriNet are a PEO, you get access to a range of other valuable features, including access to affordable group health plans.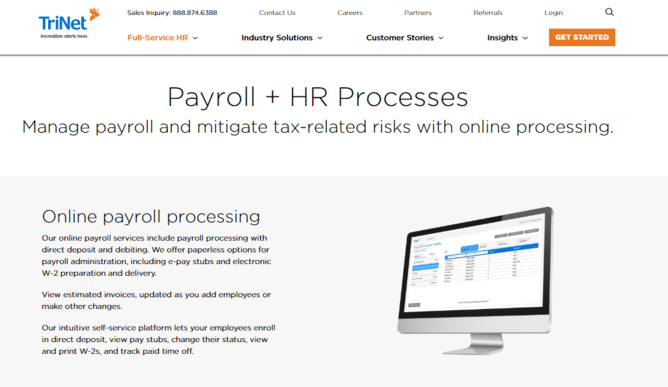 TriNet gives quotes based on your requirements, so contacting them for a custom quote is a good way to go. Although TriNets prices vary based on your location, membership usually costs between $125 and $155 per employee.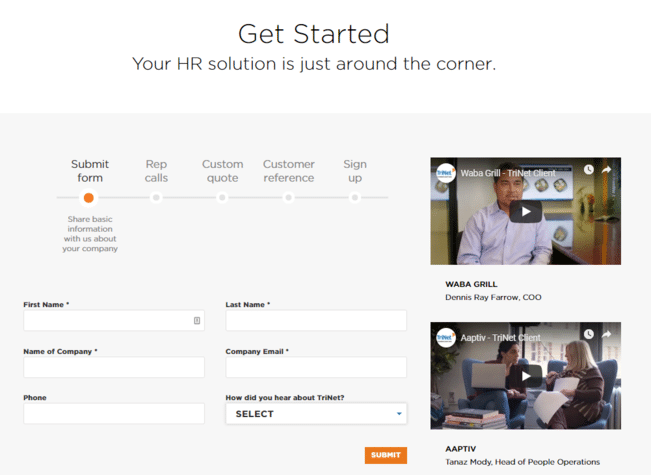 While you can only reach customer support on weekdays, once you get through TriNet are extremely helpful and will work hard to ensure you get the answers you need.
PEOs like TriNet come with access to benefits that some companies find worth the price tag.
However, we only recommend TriNet for small businesses who want to consolidate their various human resources functions, who want to offer employee health plans and other benefits, and have reasonably large budgets.

After considering the needs of small businesses, we decided on Gusto as our best payroll service for small businesses in 2020. The combination of features, value for money, customer service, and user experience along makes Gusto a great option for small businesses looking for payroll services.
Access to information regarding the creation of a small business can help people plan wisely and avoid common pitfalls.
Thats how we help: we research products, write reviews, and create in-depth guides and how-tos on topics like ideation, marketing, financing, accounting, and human resources.